Archive for Search from France
Google's newly announced real-time search is now not just limited to the Trends page. It's now live across searches on Google.co.uk. (I just tried it with "Ethan Beard", who is director of the Facebook Developer Network and is speaking on stage at Le Web right now.) The search giant announced the new feature on Monday — it pulls in public data from Twitter, MySpace and Facebook and uses it to surface content that's been recently published and shared. (more…)
Marissa Mayer, Google's vice president of search and user experience is on-stage at the Le Web conference in Paris. I'm live-blogging as we go:
Michael Arrington asks about the search announcements earlier this week (namely Google Goggles, local search and real-time search). (more…)
In an interview with TechCrunch editor Michael Arrington at LeWeb today, Google's Marissa Mayer discussed some of the new product that Google announced over the last year, including the recent integration of real-time news streams into the default search pages, Google Music Search and Google Wave. Talking about the future of search, Mayer expects that people will soon do searches by talking to their phones, or through services like the newly announced Google Goggles.
Sponsor (more…)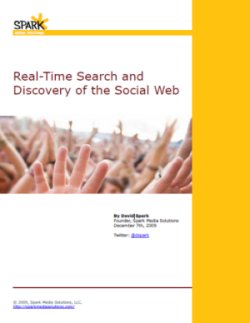 Call it good or bad timing, but I just happen to finish a report on real-time search on the day that Google announced its rollout of its integrated real-time search results within its general search results. While I had to do some last minute edits, the report is done and I'm making it available to everyone for free. It's entitled "Real-Time Search and Discovery of the Social Web." You can download the PDF, or view it right now on Scribd.
I'm giving the report away for free. All I ask in return is some feedback. Positive, negative, but whatever it is, please make it constructive. I'm eagerly learning as much as I can about this subject. This is an area that I think is going to grow like crazy, and we're only looking at a thumbnail's worth of what is yet to come.
Here are some highlights from the report.
Real-time search could steal away as much as $40 billion from traditional search. Google and Microsoft's announcement to incorporate real-time search results is a good first step to prevent losses.
The definition of real-time search is far more varied than the definition of traditional search. You'll see more variations in what is considered a real-time search engine.
All real-time search engines are far from equal. The major reason is they don't index the same content.
Real-time search engines that only index Twitter are missing up to 90 percent of the real-time web.
One exciting new aspect of real-time search is the creation of real-time programming that will be complimentary and competitive with traditional programming (e.g. TV, radio, print, and online).
Enjoy and let me know what you think. David
December 10th, 2009 CORRECTION: The article mentioned that real-time search engine Wowd required a plugin for its use. That is not true. Current report is updated to reflect that it's not required.
Real-time Search and Discovery of the Social Web
Related posts:
Fresh off the plane, I'm on the road with the Travelling Geeks, and the first startup on our schedule is an innovative Paris-based social bookmarking operation, Pearl Trees. Their founder and CEO, Patrice Lamothe, says the site offers users a new way to "curate" or organise their lives on the web.
They've secured about US$3,5m in funding for what is essentially a type of visual social bookmarking site, offering a relatively unique drag-and-drop interface. The site, which has been in development for about 7-months, relies heavily on Flash. As far as I can see, it's essentially a del.icio.us, but with a visual twist, offering a tree-like structure in which to categorise and store your bookmarks. It also offers a nifty, generously-sized real-time preview of the sites you have bookmarked.
The UI may appeal to some, but not to others. I'm in the camp of wanting simple UI and getting my bookmarks quickly (and del.icio.us and Google bookmarks does this very well for me). For me, social bookmarking sites are essentially utility sites, so its interesting that the creators of Pearl Trees went for this highly visual, more complex approach. In my opinion, simple interfaces and simple HTML sites may work better for utility sites such as these.
Pearl Trees is still in Alpha (0.4.1) and by Lamothe's own admission it's still early days. What they have achieved is impressive, considering its only been in development for 7 months.
I find it interesting that the site offers no way for a user to search through his or her bookmarks. Lamothe reckons users won't need search as a result of the unique way they are categorising and storing information, although he later concedes its something they may look at. Search feels like a big omission: When my little Tree of Pearls gets busy, I'm going to need a way to access my bookmarks quickly via a search without excessive clicking. Also the heavy use of Flash seems like a barrier to entry to accessing the info quickly.
Pearl Trees also takes us back to a "real-world" hierarchical approach of organising information, which we know tends not to work on the web where information is endless, and you can't predict what that information will be. So there are questions over how scalable their model is. In the future, as my Pearl Tree grows large — I may find myself constantly revisiting the hierarchy, trying to manage it, change it and remould it as new information pours in. (I don't have the time to do this.)
Apart from Pearl Tree's visual edge, which actually may be a inhibitor, I struggle to find how it differentiates itself from other social bookmarking sites? I guess it may boil down to what type of person you are: Someone who just wants the information or a visual person that enjoys bold UIs that may mirror a desktop experience of storing and filing data.
The genius of Pearl Trees may actually lie in the fact that it appeal to a broader type of user, and not the early adopter crowd. In many ways social bookmarking sites like Digg, del.icio.us haven't really ventured very far outside the tech-savvy, early adopter markets. However lyrical I wax about them, my mother is unlikely to ever use these sites. However she may use something like Pearl Trees, because the UI will make sense to her: It looks and works like her desktop.
Pearl Trees is a good start, and I generally like their approach. I think they are on to something if their plan is to target a broader type of internet user, and I predict Pearl Trees will evolve quite radically (maybe into something else) as the founders continue to build, interrogate and innovate around their creation.
tags: Paris startups, pearl trees, social bookmarking
Potentially related posts