2009 Sponsors
France Sponsors, Partners & Affiliates
Pearltrees

Pearltrees has developed a new visual way for people to organize content on the Web. Think of Pearltrees as a powered interest network because its content is made and organized by its community.
This service is based on the vision that the next stage of the Web is all about connecting people's interests in order to make sense out of the enormous pile of information that gets put onto the Web every day.
Other solutions have tried to accomplish this via lists (of bookmarks, of people, etc.) but tend to be static and chronological. Pearltrees believes that in the end there will be so many lists that they'll only add to our information overload instead of solving it.
In Pearltrees, everyone creates their own world and uses parts of other others' worlds to extend it. By doing so, everyone contributes to the overall project: building the first human organization of the Web.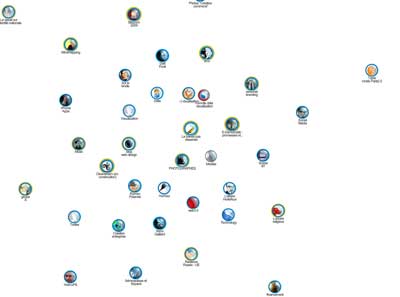 Pearltrees' game play is simple and its potential is only limited by your imagination:
Pearl the stuff you find interesting while browsing the web. You can use Pearltrees add-on, Pearltrees bookmarklets or type URLs directly in the site.
Build the world of your interests. You just need to drag & drop pearls, to name or delete them, and to put them into various pearltrees to organize your account your way.
Get connected. Every time someone pearls the same stuff as you, he connects to your pearl.
Explore your connections. Clicking on the mini-pearl let you explore the wider network of connections the community has created around each pearltree.
Navigate from pearl to pearl and discover great contents related to your interests.
Pick other users' pearls and pearltrees. While exploring Pearltrees, pick other users pearls and pearltrees and bring them back in your account.
You will extend your world with pieces of other's world, follow their activity and add new connections with people who share your interests.
Site: www.pearltrees.com/
Blog: blog.pearltrees.com/
Twitter: @pearltrees
France Télécom Orange

Orange is the key brand of France Télécom, one of the world's leading telecommunications operators. The Group had consolated sales of 53.5 billion euros in 2008 and as of September 30, 2009, a customer base of more than 189 million customers.
Orange, the Group's single brand for Internet, television and mobile services in the majority of countries where the company operates, now covers more than two-thirds of customers. At the end of September 2009, the Group had 128.8 million mobile customers worldwide and 13.4 million broadband internet (ADSL) customers in Europe.
France Télécom-Orange is the number three mobile operator and the number one provider of broadband internet services in Europe and, under the brand Orange Business Services, is one of the world leaders in providing telecommunication services to multinational companies.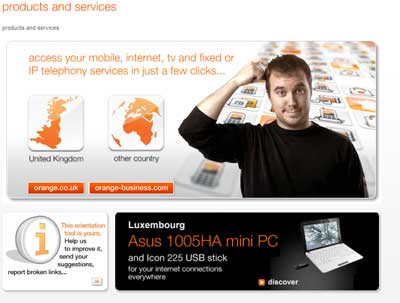 The Group's strategy, which is characterized by a strong focus on innovation, convergence and effective cost management, aims to establish Orange as an integrated operator and benchmark for new telecommunications services in Europe.
Orange is opening new avenues for growth through its audience and online advertising activities. Beyond access, Orange leverages an audience network leading Orange to be one of the first European web players. Orange mobile portal is a gateway to the mobile internet. Orange answers users' digital needs on any screen (web, Mobile, TV) working closely with partners. This combination makes Orange a major participant in the revolution that is leading traditional media towards digitalization.
Site: www.orange.com
Background: www.orange.com/sirius/leaflet/index.html?onglet=&page=
Twitter: @OrangeWorldwide
Answers.com

Answers Corporation (NASDAQ: ANSW) owns and operates Answers.com, the leading Q&A site, which includes ReferenceAnswers and WikiAnswers. The site supports French, Italian, German, Spanish, and Tagalog (Filipino).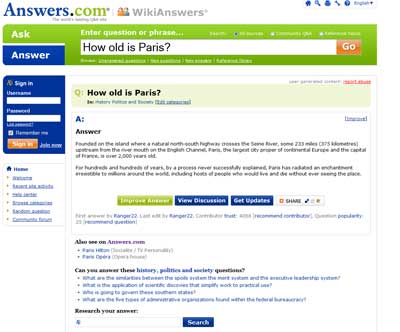 The latest comScore data positioned WikiAnswers, the company's social knowledge Q&A platform, as the leading community-driven Q&A site in the U.S. in terms of unique visitors. October's comScore numbers rank Answers.com as having 56 million unique U.S. visitors and the #15 most visited site on the web. Answers.com sites now have a higher audience than major brands such as CNN.com, Turner Network, craigslist and New York Times Digital.
WikiAnswers is a community-generated social knowledge Q&A platform, leveraging wiki-based technologies. Through the contributions of its large and growing community, answers are improved and updated over time.
The award-winning ReferenceAnswers includes content on millions of topics from over 250 licensed dictionaries and encyclopedias from leading publishers, including Houghton Mifflin, Barron's and Encyclopaedia Britannica.
Site: www.answers.com
Twitter: @answersdotcom
Blog: www.nostupidanswers.com
Facebook: www.facebook.com/pages/Answerscom/7351991185
Invest in France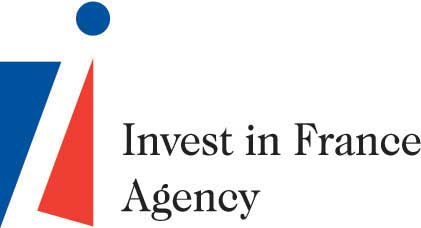 IFA helps foreign businesses in France by providing assistance at every stage of the investment process. IFA works closely with 22 French regions to act as a corporation's main contact, providing legal and tax advice, help during the set up process and after-care service. The quality of service provided by IFA to new businesses is key to the success of foreign investment projects in France.
A network of 154 members of staff in 22 offices around the world helps companies choose a site that best meets their business needs. Once an investment project has been defined, different regions in France compete for the project by submitting a tailor-made bid in English with information on the location, infrastructure, accessibility and regional financial support available for the business.
Investing in a foreign country involves strategy changes and adapting to the local culture. IFA provides support after the set-up process and helps personnel manage this change with confidence. IFA provides information and guidance, including regulatory changes that might affect a business.
IFA acts as a permanent link between businesses and the French administrative authorities, ensuring a service that is specifically adapted to the needs of expatriate personnel and their families, and promoting the ongoing improvement of entry conditions. IFA simplifies the administrative process by also helping with visas, resident permits, work permits and tax advice.
Site: www.invest-in-france.org/north-america/en/
LinkedIn: www.linkedin.com/companies/invest-in-france-agency
Parrot

Parrot stands on the cutting edge of innovation as a global leader in wireless devices for mobile phones.
Parrot has developed the most extensive range of Bluetooth hands-free systems on the market for cars, motorbikes and scooters, including wireless multimedia products. Newer products include: Parrot RKi8400, a Bluetooth car stereo, and Parrot MKi9200, a complete in-car system for iPhone.
In 2008, Parrot launched a new prestige line of high-end home products bearing the hallmark of renowned artists. ZIKMU Parrot by Philippe Starck, is the only wireless stereo dock for iPhone & iPod. GRANDE SPECCHIO by Martin Szekely is the first digital photo frame powered by Android.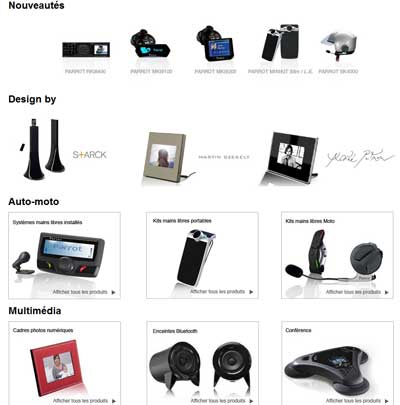 Parrot was founded in 1994 by Henri Seydoux as part of his determination to drive the inevitable breakthrough of mobile phones into everyday life by creating high-quality, user-friendly wireless devices for easy living.
Headquartered in Paris, Parrot currently employs 450 people worldwide and generates 85% of its sales overseas. The Company has been listed on NYSE Euronext Paris since 2006.
Site: www.parrot.com
Twitter: @parrot
Microsoft BizSpark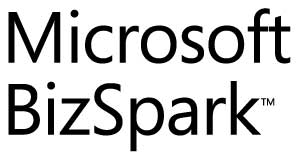 Microsoft BizSpark is a global program designed to accelerate the success of early stage startups. BizSpark provides entrepreneurs fast, easy access to the latest full-featured Microsoft platform technologies and development tools when its needed most and is least affordable, in the first three years.
BizSpark startups receive professional support and training from Microsoft as well as community-driven support from Network Partners- active organizations in the entrepreneurial space, who can provide guidance, mentorship, training and resources to startups. By participating in BizSpark, startups can also gain visibility with potential investors, partners, and customers. To learn more or enrolled check out
: www.microsoft.com/bizspark
Site: www.microsoft.com/bizspark
Twitter: @bizspark
Zorap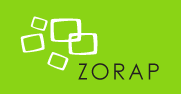 Revolutionary in its approach, Zorap creates a multi-dimensional experience on the web — enabling the real-time web using all forms of media. Using Zorap, people can collaborate and experience as a group using audio, photo and video in real-time for the first time. No other technology lets you view and listen to music, video and photos with up to 50 friends anywhere in the world and connect with those friends as it is happening.
Unlike most things that let you collaborate on the web, Zorap supports all digital rich media — whether it's music, films, audio files or photos. "Zorapping" with friends brings you an incredibly rich experience on the web never available before. For example:
Travel to movie sites and watch trailers together;
Listen to new music with your friends at your favorite artist's site;
Watch sports events with your buddies online;
Invite your family to see your wedding pictures on a photo site where everyone is sharing things in real-time;
Shop for travel destinations with your classmates or family;
Join and participate in a lively online auction where you can see the other bidders in real-time;
Let's go shopping — and share photos, video and more of what we're interested in buying.
Zorap provides a highly differentiated user experience where groups of visitors, not just individuals, can engage in real-time with promotional and communications media. Zorap also offers customized white label solutions so a company or brand can utilize Zorap's rich features in their own wrapper.
For example, take a look at a Zorap-enabled Traveling Geeks Virtual Geek Pad: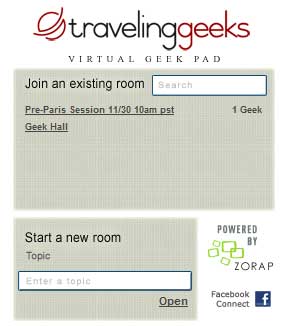 Site: www.zorap.com
Blog: http://zorap.typepad.com/weblog/
Twitter: @zorap

Mashcast

MashCast.com and New Media Broadcasting Company (NewMBC) are the breakthrough multimedia and "mash communications" enterprises providing a complete spectrum of distribution services within our online interactive networks. Pushing beyond the limitations of current social portals, MashCast is the first global media mash-up environment to engage members, partners and merchants in thematic, multi-channel entertainment, creative exchange and commerce. True to the original charter, Internet broadcasting and social networking are fully integrated, monetized and innovated as the NewMBC/MashCast Experience.
Site: www.mashcast.com
MAXroam

MAXroam have negotiated voice deals with more than 700 carriers in over 213 countries and data deals in 139 countries across the globe to give consumers a great deal while roaming on their mobile phones. Rates are often up to 80% lower than roaming with traditional mobile carriers. Using MAXroam SIM cards, users can log into their online MAXroam control panel to set up their accounts easily and quickly, instantly add a global voice/SMS number and then add a number from their home/city/country for a small fee. Users can also forward their cell phones to this number for hassle free roaming.
Site: www.maxroam.com
Business Wire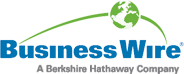 Business Wire, a wholly owned subsidiary of Berkshire Hathaway, is the global market leader in commercial news distribution. Thousands of member companies and organizations depend on Business Wire to transmit their full-text news releases, regulatory filings, photos and other multimedia content to journalists, financial professionals, investor services, regulatory authorities and the general public worldwide.
Site: www.businesswire.com/portal/site/home/
Twitter: @BusinessWire
Skype

Skype is software that enables the world's conversations. Millions of individuals and businesses use Skype to make free video and voice calls, send instant messages and share files with other Skype users. Every day, people everywhere also use Skype to make low-cost calls to landlines and mobiles.
Site: www.skype.com
Twitter: @skype
Ubergizmo

Launched in September 2004, Ubergizmo has quickly become one of the top consumer electronics websites in the US. Founded by Hubert Nguyen and Eliane Fiolet, who are respectively engineer and designer, Ubergizmo delivers straightforward news and analysis of the electronics you love and the ones that you love to hate.
Ubergizmo is distributed in six different languages and read in over 212 countries. Ubergizmo has been widely recognized as a leading high-tech website. Among other things, the site is a Webby Award Honoree*, has been ranked as a Top100 Blog by PC Magazine, ranks very high in Nielsen's Blogpulse* , was featured in the Hot Site on USA Today, and was nominated in "Best Technology Blog" at the Bloggie Awards.
Ubergizmo is also a media partner of DEMO and Web 2.0, two of the leading technology conferences in the US. Ubergizmo is an online partner of LeWeb, the largest, most renowned conference in Europe focused on the web and emerging technologies.
Eliane and Hubert have been selected in the "50 French that make a difference in the U.S." list by France-Amerique magazine and were featured on abc7 in November 2009.
Ubergizmo has a rank of 7000, according to traffic stats site Alexa.com.
*Nielsen Blogpulse Rank: top 100 among 100 million blogs
www.blogpulse.com/profile?url=ubergizmo.com
*Webby Award Honoree 2008, in the consumer electronics category, alongside Motorola, Nokia, Microsoft, Sony and PC Magazine.
Site in English: www.ubergizmo.com
Site in French: www.ubergizmo.com/fr
Nimbuzz

Nimbuzz' award-winning use social communication app, uses the internet capabilities of the mobile device to enable free & great value (VoIP) calls, free instant messaging between social networks (Skype, MSN, Facebook, Yahoo! Messenger, ICQ, Google Talk, AIM, MySpace, Hyves & others) with real time presence, location-based features and a variety of rich added-value utilities. It enables users to have their social network buddies in one place and connect with them using mobile, PC, Mac and web apps. Nimbuzz is free to download and free to use on over 1000 of the world's most popular mobile phones including iPhone, iPod Touch, Symbian, Blackberry, J2ME, Android and Windows Mobile devices. Download from www.nimbuzz.com and all major app stores.
The Nimbuzz application is free to download and uses a mobile internet data connection over 3G, 2G or Wifi networks, and across thousands of the world's most popular mobile devices on all major platforms (Symbian, J2ME, iPhone, iPod Touch, Android, Windows Mobile)
Site: www.nimbuzz.com
Social Media Club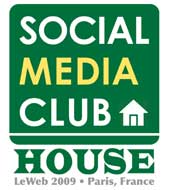 Site: www.socialmediaclub.org
UK sponsors
The Traveling Geeks trip to London and Cambridge in July 2009 was made possible by the support of the following companies and organizations. Here is a short description of their contributions and some of their products or services. (See our Disclosure Policy.)
Intel Nokia/Ovi NESTA EEIA BT Rackspace Skype Flip Digitrad ProPhotoRental The Conversation Group
Intel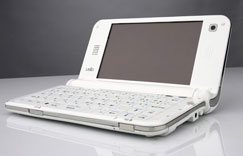 We knew we had a trip when we presented to Intel our proposal for an innovative technology tour of London and they green-lighted it.
In addition to helping underwriting the trip, Intel loaned the Geeks four styles of MIDs, all powered by Intel Atom processors, to try out during the week: a UMID mbook M1 (pictured here); and MIDS from Benq, AyiGo and Viliv. And they provided two computers we gave away at our Sunday night Tweetup: an Acer Aspire One Netbook and the UMID mbook M1.
Tom Foremski and J.D. Lasica, two members of the Intel Insiders, contributed dispatches to the Intel Scoop blog.
Nokia/Ovi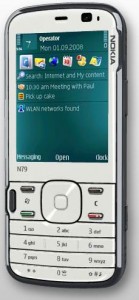 Nokia also provided generous underwriting support for the trip. The Geeks used Nokia N79 smart phones during the trip and software such as Nokia Maps to navigate around the streets of London.
We uploaded photos to Ovi — one of our photo and video hosting services. And Nokia was a sponsor of the keynote talk given at Reboot Britain by Prof. Howard Rheingold.
NESTA & EEIA
Although not directly sponsoring, NESTA and East of England International Association (EEIA) were extraordinarily helpful in enabling us to gain access to a wide range of technology thought leaders, business executives, entrepreneurs and government officials who all are deeply immersed in tech innovation. We have not come across a more talented, tuned-in and engaging group of connectors anywhere.
BT— British Telecom
A Traveling Geeks journey would not have been possible without ubiquitous broadband access, and we were incredibly grateful when BT (British Telecom) — a household name in the UK and increasingly around the world — stepped forward to provide high-speed USB cellular modems connected to the BT data network as well as SIM cards, connected to BT Mobile, for our Nokia N79s. We think this kind of outfitted "smart mob" will be the way in which future trips like this one will report to the rest of the world.
Rackspace
Rackspace, a managed hosting and cloud hosting company, has created a new community called Building 43 (more details). The company underwrote the costs of Robert Scoble's participation in Innovation UK and sent video producer Rocky Barbanica to document the Geeks' activities during the week.
Skype
Skype provided each geek with two Skype Certified High Quality Video webcams from Philips that work with either a PC or Mac, letting us stay in touch with our families, friends or business colleagues back home during the trip. Skype also gave us access to Skype's Unlimited World subscription, making it easy to connect with people in more than 42 countries.
Plus, as more and more media outlets are using Skype to conduct remote interviews, the Geeks have the tools to appear live on TV in broadcast-quality video. See http://skype.com/media/broadcast/ to learn more about how broadcasters are using Skype.
Flip
Pure Digital provided seven Flip Ultras, which we used extensively in London and Cambridge. The Ultra records two hours of hi-definition video.
Digitrad
On July 5 we met with Digitrad, a Paris-based company with a presence in Silicon Valley. Digitrad simplifies the way people communicate online by letting individuals or groups use their name as a single point of contact. (Thus, when readers type rheingold.tel or travelinggeeks.tel into a web browser, they will see contact information, the names of all relevant blogs, websites, social networks, etc., all in one place.) "Speedlight access," they call it. Registered members (250,000-plus users to date) can update their profile directly from a PC or mobile, set their own privacy settings, and obtain a unified voicemail. Here's a video explaining .tel.
Symbian
The Symbian Foundation, a non-profit organization founded in 2009, has the mission of "enabling a global business ecosystem that collaborates to create the richest and most satisfying mobile user experiences." Its open-source operating system is the most widely used open operating system for mobile phones.
ProPhotoRental
ProPhotoRental is a company in Colorado that leases and rents camera equipment.
The Conversation Group
We thank The Conversation Group for their work in pulling together our July 5 Tweetup at JuJu, which went splendidly. The Firefly communications agency was also instrumental in providing logistical support.