Archive for 'Entertainment'
From innovative surgery and extraterrestrial intelligence to reporting from war zones and Grammy-Award winning music, this year's theme for TEDxBerkeley 2016 — Finding X, which will be held at Zellerbach Hall in Berkeley CA on February 6, will look to solutions to our world's imperfections. Sixteen riveting speakers will address how we identify these problems and make sense of them in the larger systems where they belong.
Whether it be voyaging into uncharted technological or scientific territory, reconciling our diverse perspectives of the human condition, or unearthing the parts of ourselves that give our lives direction and meaning, we all hope to make an impact on this world by Finding X.
Now in its 7th year, this prestigious TEDx event will bring together thought leaders, visionaries, innovators and 54 performers who will enlighten and inspire more than 2,000 attendees across core disciplines impacting the world, from medicine and education to technology and diversity.
TEDxBerkeley strives to curate an outstanding group of inventive and provocative speakers who can shift global conversations in a way that makes the world a better place, central and core to TED's mission. The goal is to get us all to re-think conventional ideas and the status quo so that we can all make a positive difference in our own communities. Tickets for TEDxBerkeley 2016 are on sale through Friday, February 5 or until they sell out.
Attendees or those viewing via Live Stream at http://www.tedxberkeley.org starting at 10 am PST/1 pm EST, can also participate in the conversation on social media by using #TEDxBerkeley on Twitter, Facebook and other popular social networks.
This year's line-up includes:
Christopher Ategeka

: Award-Winning Social Entrepreneur & Nano-Technology Inventor that identifies early detection and monitoring of chronic diseases.
Celli@Berkeley: a cellist quartet made up of undergraduate and graduate students united by the passion to express the uniquely rich possibilities of the cello.
Kathy Calvin:

As President and CEO of the United Nations Foundation, Kathy works to connect people, ideas, and resources to the United Nations to help solve global problems.

Jacob Corn:

Scientific Director of the Innovative Genomics Initiative & on faculty at UC Berkeley in the Molecular and Cell Biology Department, Jacob focuses on neurobiology, infectious disease, and oncology.

Stephanie Freid

: An International Conflicts Journalist, TV correspondent for CCTV (China) and Turkish TV International networks, Stephanie reports from some of the world's toughest conflict and war zones.

Rose Gelfand, Molly Gardner & Isa Ansari:

this trio from Oakland School for the Arts Literary Arts Department, are performance artists who specialize in the spoken word and poetry on stage.

Rob Hotchkiss

: Grammy Award-winning Musician for the Best Rock Song for five-time nominated "Drops of Jupiter", and was the musical force behind hits such as Meet Virginia, Free, I Am and Get To Me.

Naveen Jain:

An Entrepreneur & Philanthropist, Naveen is the founder of Moon Express, World Innovation Institute, inome, Talent Wise, Intelius, and InfoSpace.

Jeromy Johnson

: An EMF Expert, Jeromy is dedicated to mitigating the negative impacts of Electromagnetic Field (EMF) exposure, helping to implement solutions that reduce and eliminate EMF pollution around the globe.

Reverend Deborah L. Johnson:

Minister, Author & Diversity Expert, Deborah teaches practical applications of Universal Spiritual Principles and is founder of The Motivational Institute, which specializes in diversity.

Aran Khanna

: As Computer Scientist & Security Researcher on personal privacy, he builds tools that empower users to discover the consequences of the digital footprint they're leaving.

John Koenig:

Creator & Author of The Dictionary of Obscure Sorrows, which fills gaps in language with new terms for emotions, some of which ('sonder') have entered the language outright.

Ellen Leanse

: As Apple's first User Evangelist, she brought Apple online in 1985 and has since helped more than 40 companies and policy makers increase their innovation and impact.

Susan Lim:

As Surgeon and Entrepreneur, Susan broke through the gender glass ceiling in transplantation surgery by becoming the first in Asia, and the second woman in the world to have performed a successful liver transplant.

OSA Chamber Choir

: the largest audition-only high school Vocal ensemble at the Oakland School for the Arts, this ensemble has performed for Governor Jerry Brown's inauguration, Obama's campaign tour and many other notable events.

Sonia Rao:

A BMI Spotlight artist, Sonia is a singer and songwriter whose latest album Meet Them At the Door is a collection of heart-felt pop songs that showcase her piano skills and soulful voice.

Amandine Roche

: A Human Rights Expert, Amandine's focus is on civic education, democratization, gender and youth empowerment.

Sriram Shamasunder:

Sriram aims to deliver comprehensive healthcare in resource poor areas of the world through his work at UCSF and as co-founder of the HEAL initiative.

Andrew Siemon

: Andrew is an Astrophysicist, Director of the UC Berkeley Center for Search for Extraterrestrial Intelligence (SETI) Research & lead scientist for the "Breakthrough Listen Initiative", a $100 million effort that is conducting one of the most sensitive searches for advanced extraterrestrial life in history.

Joshua Toch:

After being bullied because of Cerebral Palsy, Joshua founded Mind Before Mouth, which equips students to better deal with social aspects of life and get through times of hardship.

UC Berkeley Azaad

: UCB Azaad is a competitive Hindi Film Dance team which motivates audiences to connect with Bollywood culture.
This year's partners include Repertoire Productions, Vÿykn Water, Zola, Peet's Coffee, Fast Imaging, 18 Rabbits, Larabar, Victor Hugo Winery and EthiCal.
I am proud to be a co-curator again this year, joining Chris Lew as TEDxBerkeley's 2016 curator and co-curator R. Jennifer Barr together with an incredible team behind us, including Leilani Gutierrez-Palominos, Max Wolffe, Melody Jung, Aaron Chelliah, Mehdi Kazi, Sean Kelly, Krupa Modi, Aashna Patel, Andrew Veenstra, Alvin Wan and Joe West.
This year's New York Times Travel Show at the Jacob Javit's Center in New York seemed to be busier than ever on opening day Saturday January 9. For the first time, The New York Times Travel Show created a Pavilion entirely devoted to Wellness Travel, with the assistance of wellness travel journalist and consultant Anne Dimon, CEO of Travel-to-Wellness.
I was thrilled that they dedicated an entire section of the conference to health and wellness since I'm a huge believer in holistic living, organic eating and exercise as a formula for being healthy and you can't separate that approach to life when you're on the road. Let's take a look at some of the health and wellness gems I discovered at the show, some I had known for years and others, I hadn't heard of before a month ago. If you're not integrating wellness into your travel agendas, perhaps some of these retreats and experiences will encourage you to re-think how, why and where you travel.
Art of Living Retreat Center
The Art of Living Retreat Center is a unique wellness destination for travelers heading to America's South Atlantic and lower Mid-Atlantic region. With a big focus on both spirituality and wellness, they offer a range of programs throughout the year that cater to guests who are looking for experiences of healing, personal transformation, inner peace, stillness and communion with nature, a favorite pastime of mine. They're perched on a mountaintop in the Blue Ridge Mountains and are within driving distance of Atlanta, Charlotte, Raleigh and Washington DC. I'd also argue that it makes a great getaway retreat from Philly and New York City.
Part of the center is a Shankara Ayurveda Spa, a spa dedicated to the ancient healing traditions of Ayurveda. For those of you not familiar with Ayurveda, experience it — the results can be powerful! At Shankara, their main programs include weekend retreats and deep Ayurvedic cleanses, which gently cleanse, detox and revitalize the system with ancient combinations of therapies and diet. The cleanses last from 4-8 days and include personal consultations with an Ayurvedic Health Practitioner. There's plenty of yoga classes on-site as well for the serious yogi's among you.
In addition to on-site programs, yoga and spa facilities, they offer other unique retreats throughout the year. For example, coming up in February is a Sahaj Samadhi Meditation Retreat, where they offer an effortless meditation technique that infuses the mind with peace, clarity and creativity.  In March, they're offering an Art of Living Happiness Program with Sudarshan Kriya where you can discover your unlimited power and freedom and a Yoga and Mindfulness Retreat, where you'll experience yoga, Ayurveda and Living Yoga 4 Peace.  For the more advanced yoga practitioners among you, if you've ever thought of teaching, they offer a 30 day yoga teacher training and certification in April.
At the New York Times Travel event last weekend, they offered complimentary Ayurvedic assessments for guests who would like to know more about their personal constitution (called prakriti or dosha). Kim Rossi, the director of the spa, presented on "Increase Energy & Reduce Stress through the Ayurvedic Daily Routine" and "Natural Weight Balancing through the Ayurvedic Daily Routine."
They have a unique offering called Taste of PK, which is deep Ayurveda Cleansing. It includes 3 nights and 4 days in a Spa room, daily meals, 5 Ayurveda Treatments customized to your needs, and daily Meditation and Yoga. Their Taste Of PK cleanses your system on the physical, emotional and even spiritual level through an ancient, time-tested regimen of healing time, therapeutic treatments, diet and Ayurvedic lifestyle education. This shortened version of the full Panchakarma offers an immersive experience in an Ayurveda lifestyle of health and wellness and a taste of PK with a more flexible schedule, which is great for people who don't have enough time to dedicate to a longer program.
BodyHoliday in St. Lucia
BodyHoliday in St. Lucia is a unique combination of one of the world's most beautiful islands, an all-inclusive resort that provides a truly luxurious and personal service, a Wellness Center that provides a range of treatments and a range of activities that could keep you busy from dawn until dusk.
This all inclusive resort's Wellness Center has apparently been voted as one of the best spas in St Lucia and the BodyHoliday, one of the top all-inclusive resorts in the world. Renowned for their treatments, therapies and activities, they offer everything from archery to SCUBA, spinning to Pilates, and Ayurvedic treatments to Reiki. Twice a year, they also run a yoga retreat, two months dedicated to help yoga lovers improve their skills.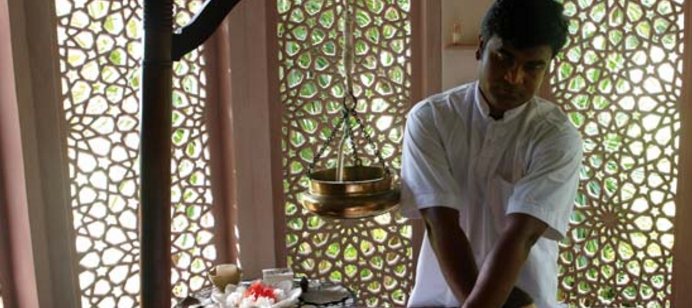 Set on a very private cove in the north west of the island, the BodyHoliday is very private and is centered around core pillars – relaxation, restorative beauty, exercise and good diet.   They currently run 6 specialized treatment courses that are designed around these key therapies and practices.  Dedicated to the pursuit of optimal wellness, BodyScience uses cutting edge technologies, such as DNA testing which is powerful. Combined with the preventative Eastern approach to well-being, the program takes a personalized health, fitness and nutrition programs to the next level.
A BodyScience program starts by the collection of a broad range of information about an individual's physiology and biochemistry to identify imbalances in the body and mind that impact on wellness. BodyScience utilizes both Western science and Ayurvedic principles to gather all the data. Their programs are based on non-invasive diagnostics that are able to detect imbalances in key nutrient and hormone systems (including stress hormone assessment), heart and circulation health and stress reserve measurements. Correct "anti-inflammatory" diet, appropriate exercise, and appropriate food with natural and hormone supplements can make a huge difference.
By correcting sluggish metabolism people will tend to feel a sense of vitality and well-being that they did not feel before. One thing to add here is that given that I travel so much, I find that there are more foods in the states that encourage inflammation than ever before because of people's reliance on fast food and processed food. A program like this could help you identify what you are eating that may be causing pain and other issues.
Some of their programs below:
The De-stress Health Program uses scientific lab tests to discover your body's stress status at a physiological level. Based on the results, BodyScience provides a unique nutrition and lifestyle plan to help the body handle stress and reduce the risk of chronic disease.
The Fitness Program includes appropriate and reliable lab tests, which can give an insight into how your body is genetically pre-disposed to certain exercise regimes. It highlights any nutritional or functional deficiencies, so that you can address them, fuel your body appropriately and get the most out of your training. It is also possible from the tests to discover how the body recovers and repairs after training. The results can be further improved with the correct nutrients.
The Weight Management 360° Program uses scientific laboratory tests to evaluate hormones, genetic predisposition to weight gain, inflammation and food sensitivities all of which are important considerations when striving for optimal weight loss and maintenance. Based on laboratory test results, you receive your own personalised dietary and exercise plan, which addresses any biochemical imbalances and subsequently influences how you achieve and maintain your healthy weight.
The Healthy Aging Program identifies where your body needs extra support to slow down the aging process, and to function optimally. The results form the basis of a detailed bespoke health plan that is designed to restore more youthful function and support your body in ageing gracefully providing vitality whilst also looking great.
The Digestive Health Program investigates the cause of your symptoms and discomfort by using state of the art laboratory tests. Based on the results, you will be provided with a personal nutrition and lifestyle plan with the aim of restoring digestive health and comfort.
The Detox Health Program uses scientific lab tests to discover your body's detoxification status. Based on the results, you receive a nutrition and lifestyle plan to help you optimize your detoxification.
They also do something called Ayurveda Ecstasy which is from South India. It is a two day program that focuses on your physical, mental and emotional levels using the best combination of four of the most popular Ayurveda therapies – Synchronized Abhyanga massage, Mukhalepam, Udvartana and Shirodhara.
Photo credit: www.telegraph.co.uk
Canyon Ranch
I've always been a fan of Canyon Ranch's mission and have heard nothing but positive things from friends who have spent time at one of their properties. For those not familiar with them, they're among the top in wellness resorts and now, they have properties on land and at sea. At the New York Times Travel Show, they co-hosted a relaxation lounge in the Wellness Pavilion and offered complimentary hand treatments from some of their top Canyon Ranch in Lenox massage therapists.
They also boast a number of philanthropic and community partners which help them provide such extraordinary experiences at their resorts.  Although I haven't been to one of their locations yet (it's on the list), the experience goes beyond your traditional spa experience. Canyon Ranch Founder Mel Zuckerman dubbed this distinction the Special Personalized Adventure. Expert Program Advisors are on-site to help you create an agenda that is personalized for your needs, interests and issues.
The property I've known about for years, largely because I lived in Boston for so long, is Lenox Massachusetts, however they also have a resort in Las Vegas and the Sonoran Desert around Tucson Arizona (below). Outside the country, you can veg out in Kaplankaya, Turkey or on a cruise ship — it's called SpaClub at Sea.
Above, morning yoga at their Arizona location — don't discount the power that a natural and pure environment can have on your well-being.
2016 is set to be an exciting year for Canyon Ranch and they highlighted many of the projects and initiatives at the show, including The Residences at Bellefontaine, their first condo living community at the Canyon Ranch in Lenox and the launch of their first international property, Canyon Ranch Wellness Resort at Kaplankaya.
They offer something they refer to as the Life Enhancement Program, which is designed for people who are looking for a first-hand experience in all-healthy living. This enlightening, engaging experience has helped thousands of people take positive, permanent steps toward reaching – and often surpassing – personal aspirations. The highly effective Life Enhancement Center preventive health program is currently being adapted by the Canyon Ranch Institute, for residents of one of the poorest neighborhoods in North America, in the South Bronx.
On-site, regardless of which location you choose, you can tap into a wealth of experts who help you improve your fitness, nutrition, stress, mood, sleep patterns and more. Their team draws on Western medicine as well as Eastern traditions, energy healing, spiritual awareness, lifestyle and proven alternative practices.  I've also know some people who head to Canyon Ranch to heal from sickness, surgery or an injury and they are known for this — people in my circles always return feeling renewed and transformed and since we're all about Transformative Travel here at We Blog the World, we're excited about the opportunity to take a look at one or two of their properties in more depth this and next year.
Ritz Carlton Dove Mountain
I love Ritz Carlton's Dove Mountain property in Arizona although I may be a bit biased. Anthony and I had an incredible few day escape there last summer, where we relaxed in the desert, took in spa treatments and ate healthy dishes every morning and night. When you head off to a spa, whether it's the luxury one at home you splurge on every month or when you're on vacation, it needs to be more than just luxurious and pampering. Pampering goes without saying, but imagine a whole lotta pampering and service, but surrounded by remote desert tranquility where the environment itself supports your system in a nurturing and balanced way. Oh yeah, and the sunsets are incredible!
While we were at the Dove Mountain property, we were also surrounded by some of the rawest desert nature you'll ever encounter in the United States and they offer evening and morning hikes out into some of the desert trails nearby by an expert guide. Because it's dry heat, if you suffer from arthritis or achy joints and pains, your body will love the low humidity in this decadent southern Arizona resort.  See my resort write-up/review from this past summer, which includes some shots of our restorative hike.
I lived in Arizona for a stint of my life and have been to Phoenix and Sedona countless times over the years, but have never been so taken away by the size of the cactus that sprawls in all directions. I think that the nature which surrounds a spa (if not in a city center) is a critical part of your spa experience. The air, the sun or lack of it, the kinds of trees and soils…..all play into what kind of experience you'll have at the spa, perhaps including what products they're most inspired by.
The Ritz Carlton Dove Mountain property has both a dry sauna and a fairly large steam room. They also have a lovely inside relaxation room with lemon and rosemary infused water and herbal teas or two areas outside — the pool itself which has comfy outdoor beds and cabanas or a smaller same sex area where there's a hot tub and access to both the steam room and sauna. The lovely thing about the resort is that while it attracts many families, it has an adult only outdoor pool behind the natural stone walls of its spa on the opposite side of the property. You'll notice at the spa pool, you are surrounded by beautiful and pure nature in every direction — it reminded me a bit of Enchantment Resort and Spa in Sedona, which apparently sits on land that is part of a vortex, believed by many to be a very healing and transformative experience.
The other lovely thing about Dove Mountain's spa pool is that it's natural salt water, rather than chlorinated water. They also have a fabulous salt water jacuzzi at the spa pool, which has a cascading waterwall – oh so lovely for the sore muscles and joints. The other thing worth noting is that the resort has an extensive Fitness Center on-site, which is larger than most 5 star resort gyms. Equipment includes Cardiovascular & Strength Training which you can do in the gym itself or nearby studio, which they use for classes, including yoga.  There's Elliptical trainers, Stationary bikes, Treadmills, Free weights, Weight training machines, and a Movement Studio.
Every day, they offer Yoga, Pilates, H.I.I.T., and Zumba. We had a private yoga class while we were there, largely because we wanted the individual treatment. We also opted for a full body assessment by one of their advanced trainers. It's not a whole lotta fun learning what your optimal body fat percentage is, but it's important to know what it is if you're going to make any vital changes in your diet and exercise regiment.
The spa pool has a private entrance to it from the spa, making it a quiet escape from the larger outdoor pools on the property which tends to get traffic from a lot of families. You can choose to have your treatment in either an indoor or outdoor treatment room, and there's an over-sized treatment suite for couples and small groups – complete with a private fireplace and courtyard. As noted, the luscious serenity pool terrace where guests are able to view ancient Native American carvings in nearby rocks.
We both had the HOT STONE MASSAGE, a treatment I've always been a fan of over the years, but not all spas offer it.  Here, they call it a Hohokam Stone Massage,  which is based on Native American traditions. Warm (I'd say closer to hot) mineral-rich basalt stones are used to give your body-earth energy.
Kurotel Longevity Medical Center and Spa

 
This health center has been honored with a coveted Crystal Award for Best Wellness Travel Property in South and Central America, and a Country Award for Best in Brazil at the 2015 Wellness Travel Awards. Apparently, Kurotel also won a Category Award for:  Best for Beauty & Anti-Aging, Best for Fitness, Best for Going Solo, Best for Healthy Cuisine, Best for Medical Services, Best for Men, Best for Outdoor Adventure & Activities and Best Overall Healthy Living Program. Whoah Nelly, if that impressive list isn't enough to bring you down to Brazil for a whole lotta rest and relaxation, then let's learn a bit more about the people behind the center and the spa itself.
Photo credit: Spas of America
Longevity Medical Center and Spa medical director and co-owner, Mariela Silveira, MD, was invited to speak about the center's innovative approach to Brain Health at this year's New York Times Travel Show and although we were in touch prior to the show, I never managed to meet with her on-site, although I did visit their booth.
In addition to her talk, Kurotel hosted a table in the Wellness Discovery Path, where they answered questions about brain health with suggestions on how to keep the good health of one's memory. The Center also ran a contest offering show attendees a chance to win a 5-night wellness retreat at the Center in Brazil.  And, they had a fun social media activity at the show, where you showed your support for Global Wellness Day by posting a photo with a "I Say Yes" sign and using hashtags to share the news on your favorite social media channels, which I did of course.
Founded by Dr Luis Carlos and Neusa Silveira, a husband and wife team, Kurotel has a 33 year history built on helping people live longer, healthier and meaningful lives. Inspired by the European Kur tradition, which focuses on preventative and rehabilitative medicine, the peaceful mountain sanctuary offers a scientific approach to health through optimistic lifestyle changes and balanced health. Combining wellness, longevity and medical services, the center offers treatments, assessments and healing therapies including everything from stress to sleep problems, addiction to smoking, cancer recovery, brain health, longevity and weight control.
Photo credit: www.tripadvisor.com.au
They have doctors and holistic practitioners at your disposal on site and a team who creates activities that combine different therapies to bring attendees into pure relaxation, beauty, wholeness and renewal. Services include facials, body treatments, relaxing or reducing therapies as well as something they refer to as the Water Circuit: a sequence of therapeutic baths which refers to European stations.
What I love about this place is that it appears to be broad in it's activity and offering approach – in other words, because they are also close to nature, they offer outdoor recreational activities as well in a natural environment, which can be very healing in itself.  From hiking, special dinners, artistic performances and dance classes to forums, lectures, swimming, tennis and functional cooking classes, they go beyond traditional health, wellness and spa treatments. It appears to be all about balance and integrating a healthy approach to your life through that balance, from exercise, knowledge, food, supplements, healing therapies, body work and more.
They even have a Post-Cancer Program which this past year, received the international certification Cancer Aware by Wellness for Cancer, as a complete program for post-cancer treatment. There are exercise classes, guidance on how best to prepare healthy meals conducted in an experimental kitchen at their Spa Bistro and plenty of doctors, nutritionists, fitness trainers, physical therapists, dentists and psychologists on-site to guide you towards a healthier and more holistic lifestyle, guidance you can take home and implement into your daily lives.
Color Spa
Color Spa is a multi-product brand that marries the ancient modality of colored light with smart tech for a 21st century interactive experience that provides an instant energy tune-up. I've always been a fan of the use of color for adding creativity, energy and relaxation to whatever activity you're doing. I find that people are often afraid of color and tend to stick to more muted and conservative colors on a regular basis — from keeping their walls white or off-white in their homes, to sticking to black and white clothing rather than a purple sweater with a colorful necklace instead. People often argue that it's easier or safer, or that they simply don't have the time or know how to get creative with color. "It takes effort," said one woman I talked to at the New York Times Travel Show when we spoke of the dynamics of color.
And so, as someone who loves art and has had plenty of it plastered on walls over the years, and repaints rooms all the time, I'm a huge fan of the power that color can create in one's life. The team behind Color Spa has published a book called Color Spa: Color Yourself In, that articulates the basics of co-founder Robyn Lee's process. She says, "What light and color offer is communion with our primary energy. Just being in colored light instigates healing, brings equilibrium to body and soul and shows us that light is natural medicine."
The above shot is of Robyn Lee, one of the main forces behind Color Spa doing a demonstration at the New York Times Travel Show in the Wellness Pavilion where I spent most of my afternoon on the last day. The photo may look a little "funky" but it's because we were in an area sectioned off by curtains where she had beams of lights in different colors facing another set of beams of lights in different colors and the result was a soft muted color spread in all directions – kinda fun! The reason she created this environment, was to let people experience a type of "color therapy."
Color Spa has several parts:
Mobile App which uses your smartphone for an instant energy tune-up. (pictured above)
Spas: for clients at destination spas or on a wellness cruise, instead of a mud bath, you can step into an immersive Color Spa treatment that cleanses and refreshes with colored light and sound.
Workshops: an in-depth session on the relationship between colored light and our seven chakras and an energy healing real-time. They offer this for groups, corporations, cruise ships and at wellness retreats.
There's also two not-for-profit applications:
Custom Coach: a bus that is an interactive, mobile light show. It tours to schools, museums, hospitals, shopping malls – and gives the general public, (especially under-privileged kids in poorer neighborhoods) an experience.
Larger Lightshow/Workshop: like Oprah's The Life You Want Tour, this is a full-scale show that combines Robyn Lee's teachings, guests and a scaled experience, booked in large venues. A percentage of each performance is apparently donated to charity.
Color Spa is a unique experience as it opens a window to the people on a gently therapeutic level where consciousness is the currency, engagement the process and personal balance the result. Below is a shot taken at one of her workshops.
 Photo credit: Emily Hewitt
Wellness Travel is exploding as a category and it's no surprise. I've been committed to it as a way of life (not simply a travel category on our site) for years. With processed food being an unfortunate "go to" in the western world and fast and "always-on" schedules encouraging more time on mobile devices and laptops, where we work longer hours per day than ever before, it's no wonder that our bodies are breaking down and craving that necessary relaxation break. It's no longer just about spa getaways in today's hectic world; a massage or facial here and there isn't enough to reset our stressed body from the months of tension and stress that regularly get thrown our way.
By experiencing creative, non-traditional therapies, learning about healthy diets you can incorporate into your life at home and when traveling, making time for exercise and nature, we stand a chance — a more successful chance — at living a holistic and healthy life where we can feel at peace with the world. This is part of travel or should be! Learning more about the negative impact of things in our environment like plastic, processed meals, chemicals in our food and beauty products, hormones that get pumped into the livestock we eat and the ill-effect of EMFs from our cell phones, is all key to living a better life.
Be sure to read my recent article on 15 Tips for Healthy Travel, a piece I wrote about the power of silence and nature during a recent Yoga and Wellness trip to Jamaica, and my detailed article that outlines what you need to know about EMF emissions and the health risks many are experiencing as a result of high EMF's from things like smart meters, cell phones, powerful modems in homes and more.
Being aware is necessary in today's toxic environment. Having that knowledge and experiencing it first hand, which you can do through some of the wellness companies above, is critical to your well-being and happiness in life, on and off the road.
This second part of my report from the Traveling Geeks tour in Paris is focused on the companies we visited during the first two days, Monday 7th and Tuesday 8th of December 2009. With startups with short presentations, startups with long meetings, then larger companies (Orange, Parrot).
I'll start here with the startups we met at La Cantine. I realize I'll need more posts for the rest of this two days visits. (more…)
Marissa Mayer, Google's vice president of search and user experience is on-stage at the Le Web conference in Paris. I'm live-blogging as we go:
Michael Arrington asks about the search announcements earlier this week (namely Google Goggles, local search and real-time search). (more…)
In an interview with TechCrunch editor Michael Arrington at LeWeb today, Google's Marissa Mayer discussed some of the new product that Google announced over the last year, including the recent integration of real-time news streams into the default search pages, Google Music Search and Google Wave. Talking about the future of search, Mayer expects that people will soon do searches by talking to their phones, or through services like the newly announced Google Goggles.
Sponsor (more…)
I have seen so many accordions in Paris, especially on street cars on the Paris Metro. I'm still waiting for one of them to play "Lady of Spain." This was the first time thought I saw a stand up bass on a train. And I complain about having to drag luggage. I must say the music makes Metro travel a lot more pleasant. Thanks Paris.
Related posts:
[Traveling Geeks] Musicovery is an interactive music discovery online service, with a cool visual interface. It lets people find songs using a 2 dimension "mood graph" based on a famous psychology model (Russell Circumplex). On one dimension it is a variation from calm to energetic, and on the other one, it is negative sentiment to positive sentiment. The mood specifications are then translated into music characteristics such as tempo, orchestral power and so on, and this categorization is done by humans. Musicovery has 1 million monthly unique visitors with 600,000 registered members, 15% of the audience comes from the US (#1).
[Traveling Geeks] MXP4 is a new interactive audio format that lets people to remix on the fly different song versions. The company has developed a suite of creative tools for artists and producers to deliver a new interactive listening, premium and personalized playback experiences to listeners. Check out the video in the full post.
Here's another video from the karaoke accordionist I saw in Paris on my free day before the beginning of the Traveling Geeks French tech junket. While the accordionist handed the mike to others to sing while he accompanied, he took over to sing "Just a Gigolo" (history of song) all in English.
Related posts: